The content that follows was originally published on the Darby Pop Publishing website at http://www.darbypop.com/beyond-the-cover/side-kicked-meet-the-cast-atlas/
In a world where the only thing worse than a super-villain is an egomaniacal superhero, it is up to the under-paid, under-appreciated sidekicks to both make their partners look good and keep common citizens out of danger. But what happens when the sidekicks decide that they've had enough? That's the core question in SIDE-KICKED, a 96-page original graphic novel by Russell Brettholtz and Miguel Mendonça coming from Darby Pop Publishing this October.
And who are these haughty heroes, vicious villains, and sacrificial sidekicks? Find out in our new blog series: Meet the Cast!
ATLAS
BIRTH NAME: George Adams
AKA: Atlas
POWERS: Super strong
AGE: 24
HEIGHT: 5'6"
WEIGHT: 250 lbs

BACK STORY: When he was twelve, George and his mother were in an accident while driving home from church; lightning struck a tree near the road and the oak crashed down onto their car. George was mostly uninjured, but his mother was trapped, her legs pinned. As the rain poured down, George prayed for strength. In what he would later describe to his priest as a "miracle," George managed to push the tree off the wreckage and pull his mother free. Knowing how skeptical the secular world could be, George kept the specific details of his rescue secret, but the sudden power never faded.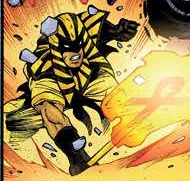 After high school, George joined the Marines, but his heart wasn't really in it. When his tour of duty ended, George returned home. Believing his might to be a gift from God, George prayed long and hard and finally came to a decision: he would use his superior brawn to help the people of Chicago.

Hero: After uncovering an ancient artifact while on an archaeological dig in Egypt, PhD student A.J. Abasi, decided to wield its mystical powers as the superhero, The Scepter. Limited only by his imagination, The Scepter can generate blasts, shields and other energy manifestations focused through his mighty relic.
Villain: After being caught in the blast of an experimental "magnetic bomb", Aarav Vikram found himself able to magnetically manipulate ferrous metal. Now, there was no ore deposit too deep for the mining mogul, and when he couldn't get his way though savvy business practices, Aarav could always rely on his superpowers to clear the path.
SIDE-KICKED (TP) is now available for pre-order from your local comics shop with order code: AUG15 1606, and will be released in-stores and digitally in late October. Stay tuned for future entries to meet the rest of our core cast.