The content that follows was originally published on the Darby Pop Publishing website at http://www.darbypop.com/beyond-the-cover/side-kicked-meet-the-cast-mustang/
In a world where the only thing worse than a super-villain is an egomaniacal superhero, it is up to the under-paid, under-appreciated sidekicks to both make their partners look good and keep common citizens out of danger. But what happens when the sidekicks decide that they've had enough? That's the core question in SIDE-KICKED, a 96-page original graphic novel by Russell Brettholtz and Miguel Mendonça coming from Darby Pop Publishing this October.
And who are these haughty heroes, vicious villains, and sacrificial sidekicks? Find out in our new blog series: Meet the Cast!
MUSTANG
BIRTH NAME: Daniel Burr
AKA: Mustang
POWERS: Can fire plasma blasts from his hands
AGE: 26
HEIGHT: 6'4"
WEIGHT: 205 lbs.
BACK STORY: Dan was recruited for the clinical trial of a new drug developed to give ordinary humans super-human powers. The pharmaceutical worked, and Dan found himself able to fire plasma blasts from his hands. Soon, he was working for a covert government agency tasked with developing super-powered humans to battle super-villains.
Unfortunately, one year and several bad guys later, Dan uncovered systematic corruption within his own organization. Dan was shocked; the "heroes" had become—or perhaps had always been—the "villains."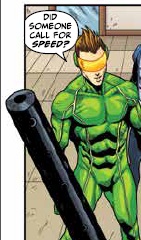 Dan returned home to Chicago believing he owed a debt to society for the actions of his former employer. Besides, Dan rather likes playing the hero.
Hero: The speedster known to the world as Captain Celerity has seemingly always had something to prove. When breaking world records for track and field at the Olympics no longer proved enough for him, C.C. donned a form-fitting suit, and started putting his speed to good use in the Windy City.
Villain: When the military no longer needed him, Mercenary sold his skills and knowledge to the highest bidder. Armed with custom-made advanced weaponry and a lifetime of battle experience, this soldier of fortune fights a war of his own making against anyone who stands in his way.
SIDE-KICKED (TP) is now available for pre-order from your local comics shop with order code: AUG15 1606, and will be released in-stores and digitally in late October. Stay tuned for future entries to meet the rest of our core cast.