The content that follows was originally published on the Darby Pop Publishing website at http://www.darbypop.com/events/breaking-into-comics-3-spotlight-on-side-kicked/
It's not easy to get a foot in the door of the comic book industry — which is why Darby Pop Publishing helps talented creators "break into comics" with an annual competition.
After the phenomenal success of both our Indestructible: Stingray and The Women of Darby Pop campaigns, we're back in 2017 with a new opportunity for writers and artists to get their work seen via the slightly-skewed world of Russell Brettholtz's and Miguel Mendonca's Side-Kicked.
Your Assignment: Instead of contributing to an anthology or focusing on a single, 22-page issue, this time around participants will compete to be one of the two 11-page stories that Darby Pop will publish digitally on ComiXology AND include as part of a brand-new physical edition of the Side-Kicked trade paperback.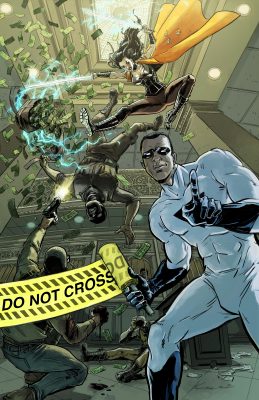 WRITERS will need to submit a complete 11-page comic book script (exact length, please!) focusing on one of two crime-fighting partnerships – Atalanta and Frostbite or Flying Fox and Jolt. And your tale must feature either their first meeting or their first mission together (or both.)
ARTISTS will need to submit a pin-up page of either Atalanta and Frostbite or Flying Fox and Jolt along with (at least) one full-page example of sequential art (to show us what you can do when it comes to visualizing/telling a story).
The two winning ARTISTS will then bring the two winning WRITERS' scripts to life while working with Darby Pop Publishing's editorial team.
You can learn a little more about Atalanta and Frosbite here: http://www.darbypop.com/beyond-the-cover/side-kicked-meet-the-cast-frostbite/.
Dive deeper into Flying Fox and Jolt's backgrounds here: http://www.darbypop.com/beyond-the-cover/side-kicked-meet-the-cast-jolt/
And Side-Kicked writer, Russell Brettholtz, has provided a .pdf of Side-Kicked character profiles and information called Side-Kicked: Origins, which may be downloaded here: Side-Kicked-Origins
Of course, all four characters – and an overall sense of the world, tone, etc. – can be found in the original Side-Kicked trade paperback, and/or digital single-issues. (There are no physical "floppies" for Side-Kicked). The first printing of the TP is nearly sold-out, by the by. (Our most sincere "thanks" for that, Readers!) But, our webstore (www.darbypop.com) still has a few copies, as does Amazon, and – perhaps – your local comic book shop.
To Repeat — What We Want to See: From our Writers, we want an 11-page finished script. That's a complete script. Not a pitch. Not a premise. Not an outline. Formatting isn't a concern so long as you include dialogue and panel descriptions. But, do yourself — and us — a favor by running the script through a spellcheck program before hitting "send."
From our Artists, we want to see an original pin-up of either Atalanta and Frostbite or Jolt and Flying Fox. Plus 1 or 2 complete sequential pages (note: these do NOT have to be specific to Darby Pop). Being able to pencil, ink, and color your own work is REQUIRED; lettering is not —although if you want to show us that you're a jack-of-all-trades… go for it. (We'll read every word balloon. Promise!)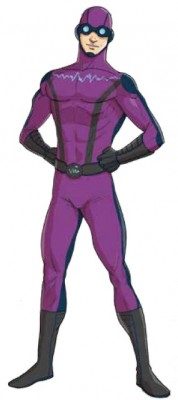 The winning Artists will be working from the winning Writers' scripts in late February '17 and early March '17, so if you know that you won't be available then, please DO NOT submit.
From both Writers and Artists, we will also need a signed release form (SEE BELOW). This is of the utmost importance; if your submission does not include a signed release it will NOT be considered.
Submit your finished script(s) and art to DarbyPopSubmissions@gmail.com. Subject Line: SIDE-KICKED (Yes, you may submit more than once.)
Your Reward: First and foremost will be seeing your work published and publicized as a part of the Side-Kicked Vol. 1 trade paperback reprint AND as a special digital issue of Side-Kicked on ComiXology. In addition, each of the winning Writers will receive $100 and 2 copies of the Trade Paperback. Each of the winning Artists will receive no less than $200 (slightly more if you do your own lettering) and 4 copies of the Trade Paperback.
Your Deadline: Friday, February 10th, 2017. Pay careful attention to that deadline because any submissions received after midnight PST on that date will not be considered.
Our Legal: By submitting your work to this contest, you consent to Darby Pop Publishing using your name and likeness for promotion in relation to this contest and its results. Obviously, Darby Pop Publishing owns the "chosen" material outright. The rest we'll leave to our fancy lawyers and their release form, so remember to sign the thing.
Important: No, we're not going to publish anything even remotely pornographic. Or offensive. Keep in mind that our target audience is teens and older of any/all stripes. Keep it clean. Make it good. And join our dysfunctional little family, won't you?