The content that follows was originally published on the Darby Pop Publishing website at http://www.darbypop.com/events/darby-pop-top-tourney/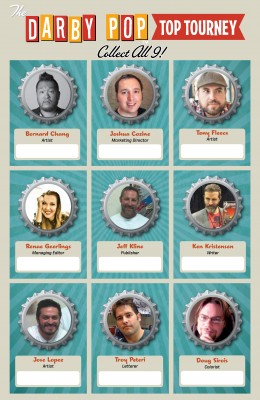 In celebration of Darby Pop's anniversary, we're hosting The Darby Pop Top Tourney at San Diego Comic-Con 2014, a signature collecting contest that can win you some fabulous prizes such as early access to new Darby Pop titles, signed copies of the first full year of books, lunch with the Darby Pop crew, and more!
To participate stop by the IDW booth at Comic-Con and pick up a Darby Pop Top Tourney signature card and collect a signature from each person or download and print the signature card here.
All nine of these good-looking mugs are going to be in attendance for San Diego Comic-Con 2014, although a few may be trickier to find than others. Our eclectic cast includes:
After your card has been filled out, email a picture of your complete collection to joshuacozine@darbypop.com.  Prizes will be awarded in the order below.
FIRST — Early access (via PDF) to Darby Pop Publishing's books for the next year PLUS all prizes below!  No more waiting!
First 3 — Lunch with the Darby Pop Crew on Saturday, July 26th PLUS all prizes below.  Yes, you can ask us anything.  And, yes, we're buying.  (Within reason.)
First 5 — One copy of each of Darby Pop's Year One books (signed when possible), PLUS all the prizes below.
First 10 — Full-size Lithograph of the INDESTRUCTIBLE trade paperback cover.  ONLY 10 in existence!  PLUS all the prizes below.
First 25 — One copy of THE 7TH SWORD Convention Exclusive signed by cover artist Andrew Robinson and writer John Raffo.
26 and Beyond — No one who collects all 9 signatures and has Joshua verify authenticity goes home empty-handed.  We're good like that.
For appearance schedules, booth locations, and updates on our whereabouts, visits our website, "like" us on Facebook, and follow us on Twitter @DarbyPopComics.  Social media links for the participants can be found on our website in the "Creatives" section.
By participating in this contest, you agree to allow Darby Pop Publishing to use your name and likeness in promotional and advertising material at Darby Pop's sole discretion.  Completed forms must be submitted by noon Pacific on July 27th.  All physical prizes must be picked up in person at the SDCC, time and place to be decided by Darby Pop.  Lunch with the Darby Pop Crew will be held on Saturday, July 26, 2014 at a time and place to be designated by Darby Pop.  Winners unable to attend will forfeit this prize.  The 1st place winner must agree to sign an NDA in Darby Pop's standard form stating that they will keep the material disclosed to them private and confidential until after the applicable release dates.  In the event of any dispute as to the place in which a contestant finishes, Darby Pop's decision will be final. In the event any prizes are lost, destroyed or otherwise unavailable prior to delivery to the winning contestants, Darby Pop will use reasonable efforts to replace them with prizes of equal or greater value.