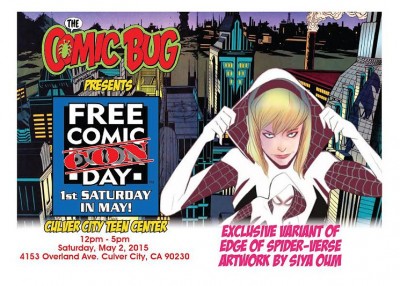 The content that follows was originally published on the Darby Pop Publishing website at http://www.darbypop.com/indestructible/darby-pops-free-comic-book-day-2015-signings/
Come join the Darby Pop team for Free Comic Book Day this Saturday, May 2nd, all over the nation.
INDESTRUCTIBLE creator/writer and Darby Pop founder Jeff Kline and INDESTRUCTIBLE: STINGRAY writer, "Breaking Into Comics" Script Contest winner Jeff Marsick, and DEAD SQUAD, INDESTRUCTIBLE, and THE 7TH SWORD's colorist Doug Sirois will be in attendance at Jetpack Comics (37 N. Main St. Rochester, NH, 03867) with free INDESTRUCTIBLE: STINGRAY signing cards in hand.
Rounding out the Jeffs, INDESTRUCTIBLE: STINGRAY and DEAD SQUAD: AYALA TAL cover artist Jeff Langevin will be in attendance at Cosmic Monkey (5335 N.E. Sandy Blvd. Portland, OR 97213) with free INDESTRUCTIBLE: STINGRAY signing cards in tow.
Back home at Los Angeles, THE 7TH SWORD's Eisner-award winning cover artist Andrew Robinson, DEAD SQUAD writers Stephen Scaia and Matthew Federman, INDESTRUCTIBLE writer Ken Kristensen (TODD: THE UGLIEST KID ON EARTH), and DOBERMAN writer Jack Lambert will be in attendance at FREE COMIC-CON DAY at the Culver City Teen Center (4153 Overland Ave. Culver City, CA 90230).
The FREE COMIC-CON DAY guests signing times are as follows.
12pm-5pm: Andrew Robinson (THE 7TH SWORD)
12pm-2pm: Matthew Federman and Stephen Scaia (DEAD SQUAD)
1pm-3pm: Ken Kristensen (INDESTRUCTIBLE)
3pm-5pm: Jack Lambert (DOBERMAN)
THE 7TH SWORD writer John Raffo (DRAGON: THE BRUCE LEE STORY) will be in attendance at a special Sunday, May 3rd, Free Comic Book Day event from 12pm-4pm at Dreamworld Comics (12402 Washington Pl. Los Angeles, CA 90066)