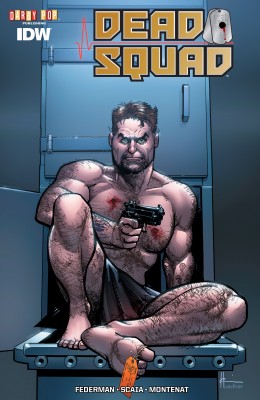 The content that follows was originally published on the Darby Pop Publishing website at http://www.darbypop.com/press/announcing-darby-pops-5th-title-dead-squad/
Saturday (July 26th) at San Diego Comic Con International, Darby Pop Publishing announced plans for the October release of their fifth all-original title — DEAD SQUAD — to be distributed by IDW. The comic book series will be written by scribes Matthew Federman and Stephen Scaia. While the duo is relatively new to comics, their work is well-known to genre fans as they have written and produced for a number of "cult" television series including JERICHO, WAREHOUSE 13, and DC's HUMAN TARGET. Additionally, the pair is responsible for two high-profile features in development, Y: THE LAST MAN (New Line) and GHOST RECON (Michael Bay/Ubisoft/Warner Brothers).
DEAD SQUAD spins the tale of three U.S. military operatives who discover that their commanding officer has gone rogue, meaning that they are now considered traitors as well. Unfortunately, this realization comes only moments before their years of service are rewarded with a swarm of snipers' bullets. Since the trio's early deaths would make for a very truncated series, however, each is granted a reprieve thanks to advanced nanotech and a government intent on interrogating them mercilessly.  But the stay of execution is a limited one, as the Dead Squad learns that the "biotic" serum reanimating them is only a "beta" version with a 30 hour life span. Living on borrowed time, the Dead Squad must track down their betrayer and retrieve the one thing that can keep them alive — knowing all the while that a very different "after-life" awaits each of them.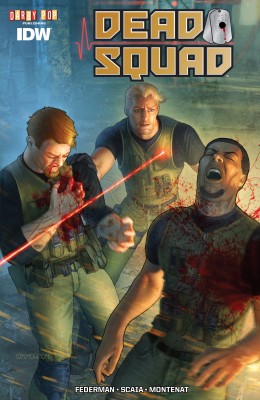 "The idea for this book came in part from my being waterboarded," said Federman of the series.
Scaia added, "One of the military consultants on another project asked if we would like to be tortured so that we could understand the process."
"And this is not a guy you say 'no' to," Federman confirmed. "I guess our willingness impressed him, because afterwards he really opened up to us about how he thought a military character might be feeling… might wonder if he was doing the right thing from a moral perspective… and what might be waiting for this soldier when he dies, in terms of judgment in the after-life."
Scaia expanded upon this, saying, "That planted a seed, and then we started reading about advances in field medicine, and it occurred to us that the day when recently-killed soldiers could be revived is not that far away. If that happened, what might they have seen on the other side, and how would that influence their actions going forward? Especially if they have only a short window to either keep themselves from going "back" or do something that might change their fate."
The "Dead Squad" creative cadre is rounded out by the art team of Kirk Van Wormer, Michael Montenat, and Doug Sirois. Comics veteran Van Wormer had stepped away from the industry to build a successful career in television animation (with credits such as THE BATMAN and TRANSFORMERS: PRIME), but returns to his first love to provide layouts for finish artist Michael Montenat.  Montenat is making his second appearance for Darby Pop Publishing, having contributed pencils to CITY: THE MIND IN THE MACHINE (trade paperback out in October).  And their artwork will be brought to life by colorist Doug Sirois, who's contributing to his third Darby Pop Publishing title.
Cover duties for the debut issue are being handled by Top Cow alum Steve Firchow, with the legendary Howard Chaykin contributing both a subscription cover and a convention-exclusive sketch variant.
A preview of the book and an interview with creators Federman and Scaia can be found here.