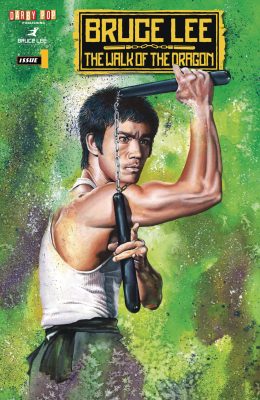 The content that follows was originally published on the Darby Pop Publishing website at http://www.darbypop.com/press/bruce-lee-hits-the-streets-in-darby-pop-publishings-all-new-bruce-lee-the-walk-of-the-dragon/
Bruce Lee: The Walk of the Dragon, an all-new, all-ages, full-color comic adventure, releases as a "one shot" on March 28, 2018 courtesy of Darby Pop Publishing. The self-contained story lives in the same continuity as the hugely successful Bruce Lee: The Dragon Rises, but shines even more of a spotlight on one of history's few real-life superheroes. This special issue was written by animation superstar Nicole Dubuc (My Little Pony, Star Wars: Rebels, Transformers: Rescue Bots). Interior art is once again courtesy of Brandon McKinney with a cover from John Haun.
"We truly believe that Bruce Lee: The Walk of the Dragon both honors the memory and continues the work of this multi-faceted man – actor, philosopher, teacher and, of course, supreme martial artist," said Jeff Kline, founder of Darby Pop Publishing. Kline is also the title's co-creator, having teamed up with Bruce's daughter, Shannon Lee.
Story Synopsis: Philosopher/teacher/real-life superhero Bruce Lee is back. And, let's be honest, the world needs him now more than ever. Taking a brief respite from battling an otherworldly evil, Bruce attempts to navigate modern-day Southern California despite still suffering from amnesia and having been "out of the loop" for over 45 years. Unfortunately, what was supposed to be a simple "lunch run" soon turns into a comedy of errors involving mistaken identity, a Film Festival, and the pokey. And despite never being one to initiate fisticuffs, Bruce continues to find it difficult to both hide his martial arts skills… and keep his shirt on.
All told in a single-issue format that requires no prior knowledge, and reaches its own satisfying conclusion.
Here's just some of what Shannon Lee had to say about Bruce Lee: The Walk of the Dragon:
"It's long been a dream of mine to introduce my father and his amazing legacy of action and philosophy to a whole new generation, and a comic book is a super fun way to do that."
"My father and the way he lived his life have been a daily inspiration for me, and I've dedicated a big part of my life to finding ways to keep his message alive in the world. I hope you enjoy our book and develop your own passion for Bruce Lee and his phenomenal legacy of courageous action!"
For a product listing of the Bruce Lee: The Walk of the Dragon "one shot" floppy, please visit https://www.previewsworld.com/Catalog/JAN181591.
About Darby Pop Publishing
Founder Jeff Kline started Darby Pop Publishing with the goal of using the visual medium of sequential art – aka comic books – to tell all-new stories. As a life-long lover of the form, Jeff convinced a small circle of his movie/TV friends to join him as he "broke into" comics after writing/producing more than 1,000 episodes of television over the past two decades. Four years and nearly one hundred releases later, Darby Pop Publishing continues to be a creator-owned labor of love.
About Bruce Lee Entertainment
BRUCE LEE ENTERTAINMENT, LLC a production company with exclusive access to international icon Bruce Lee's name, likeness, story, copyrighted and unfinished works and trademarks, aims to work with select, like-minded partners to create and produce content in all media that honors, embodies and upholds Bruce Lee and the Bruce Lee legacy not only as a source of entertainment but a continued source of motivation and inspiration for people the world over. Owned and operated by Shannon Lee, Bruce Lee Entertainment is a subsidiary of Bruce Lee Enterprises, the exclusive owner of all rights and marks relating to the use of Bruce Lee's name, image and attributes worldwide.