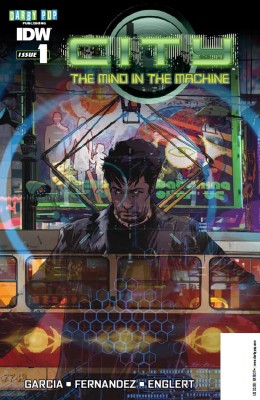 The content that follows was originally published on the Darby Pop Publishing website at http://www.darbypop.com/press/cbr-interviews-eric-garcia-creator-of-city-the-mind-in-the-machine/
Continuing their in-depth look at Darby Pop Publishing, Comic Book Resources interviewed Eric Garcia about his new comic series, CITY: THE MIND IN THE MACHINE and also provide an exclusive first look at the interior art. Here's an excerpt:
CBR: Has this story been influenced by the NSA spying revelations rocking the headlines this past year?
Eric Garcia: Funny thing — while the NSA news has most certainly influenced "City" as we've been putting it together, the impetus for the project came about long before any of the recent NSA activities were made public knowledge. That being said, it's not like I was blissfully ignorant of our espionage agencies and their tactics. And while I'm no conspiracy theorist/black-helicopter-spotter, it's been pretty clear for quite some time that the American government uses its powers to spy on its own citizens. But CITY is actually more concerned with the ability of corporate entities to spy on private citizens, and the questions about corporations acting in concert with military and Homeland operations. It's all tied up together, of course, and those knots are only getting tighter with every passing day. So when Ben, as City, starts to explore the limits of his power, and finds he's able to access so much more than he ever thought possible (or legal!), it's an exploration of what the private sector can do when given a nod and wink by the powers-that-be.
Read the full interview on Comic Book Resources.
Also remember that you can still pre-order CITY: THE MIND IN THE MACHINE with Diamond Order Code: DEC130471. Let your local comic shop know that you want this book.