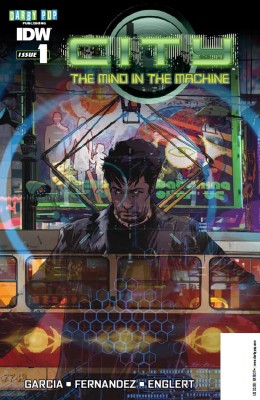 The content that follows was originally published on the Darby Pop Publishing website at http://www.darbypop.com/press/city-the-mind-in-the-machine-receives-high-praise-from-reviewers/
With the release of CITY: THE MIND IN THE MACHINE last week, a ton of great comic sites reviewed the book. Here is what a number of them had to say:
"The writing is witty and sincere. Eric Garica has a way of bringing some humor with urgency and intellect. The way that he develops the characters and the ability to make sure that it's understandable works for this comic book and is awesome.
The artistry is fantastic. It is great and has the ability to move from each panel. There are some things that works and there are some things that work better. There is nothing that I can say but praise for this artist.
Overall, I give this a five out of five." ~ Eric Bridges, Unleash the Fanboy
"Eric Garcia, author of ANONYMOUS REX and MATCHSTICK MEN, bring us a story of The Government, Big Brother and The War on Terrorism combined. The lines and color in this comic are phenomenal, I mean… wow! So vibrant and electric, and the details are amazing, right down to the detail in the static. This comic is everything I look for – great story, great art. Two Thumbs up – fine reading." ~ Meli Kirk, Mighty Ink Comics
"This is a highly inventive tale, written by Eric Garcia (MATCHSTICK MEN), illustrated beautifully by Javier Fernandez and colored spot-on by Mark Englert with additional pages by Felix Serrano.  I was completely drawn in to the wonder of the system…and it's failures…and by the eventual "solution" to the problems.  This is a tale with serious possibilities – and I'm looking forward to what comes next. 5/5″ ~ Ed Garrett, TMStash
If you haven't gotten a copy of CITY: THE MIND IN THE MACHINE yet, head over to our How To Buy page to find out how to purchase a copy.