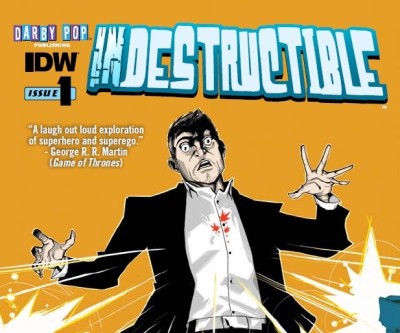 The content that follows was originally published on the Darby Pop Publishing website at http://www.darbypop.com/press/early-reviews-praise-indestructible-1/
INDESTRUCTIBLE #1 hits store shelves very soon, but the comics press received advanced copies and have posted their reviews early. Here is what some sites have had to say:
"Gregory is a lot more zero than hero when it comes to special powers, but he's a character that many can relate to and you really pull for as a reader. The creative team take a new approach to the subject matter and is a breath of fresh air in a book full of capes and tights." ~ Jonathan Pilley from Omnicomic.
"The best part of this comic series is it lays bare our culture's misplaced obsession with celebrity and makes fun of it in the best possible way. Bravo, guys!" ~ Madeleine Holly-Rosing from Fanboy Comics.
"In all, Indestructible #1 has dived right in and surpassed all limits. With continuous structure and a firm story throughout this is a perfect example at how a number one issue should be presented." ~ Freeland Costin from Word of the Nerd.
"With great pacing, an excellent plot, interesting characters, snappy dialog and artwork that conveys all of those assets soundly, Indestructible is an absolute winner." ~ Jesse Scheckner from Florida Geek Scene
"It's fun, interesting and well written with fantastic art. If you're not reading Indestructible, you're a fool. A FOOL. Go out and buy a copy." ~ Ninja Ross at Trash Mutant!
Indestructible #1 will be available at local comic shops nationwide and available for digital download on Comixology on Wednesday, December 11th.