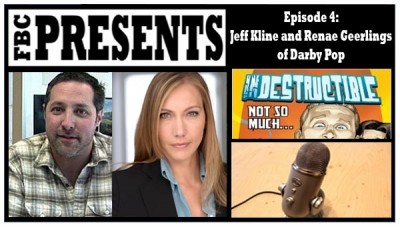 The content that follows was originally published on the Darby Pop Publishing website at http://www.darbypop.com/press/fbc-presents-interviews-jeff-kline-and-renae-geerlings-of-darby-pop/
Darby Pop Founder Jeff Kline and Managing Editor Renae Geerlings were guests on FBC Presents, a podcast series featuring long-form interviews with guests from every corner of Geekdom. Host Jason Enright talks with Renae and Jeff talk about the one-year anniversary of the launch of their independent publishing line, the lessons they've learned from creating independent comics, and what fans can expect from Darby Pop in their second year.
The podcast may be listened to or downloaded here: Ep. #004 FBC Presents: Jeff Kline and Renae Geerlings of Darby Pop Publishing.