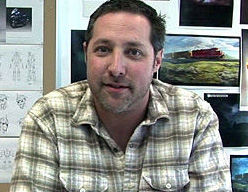 The content that follows was originally published on the Darby Pop Publishing website at http://www.darbypop.com/press/previewsworld-interviews-the-darby-pop-team/
Vince Brusio from PREVIEWSworld magazine recently interview Darby Pop president and founder Jeff Kline and editor-in-chief David Wohl about how the company was formed, and what Darby Pop's first book INDESTRUCTIBLE is all about. Here's an excerpt:
PREVIEWSworld: On page 179 of the October PREVIEWS catalog, INDESTRUCTIBLE #1 is listed as the first solicitation from Darby Pop. What can you tell us about the book, and what type of readers will find it intriguing?
Jeff Kline: INDESTRUCTIBLE is a superhero title.  It's a satire, though not a send-up.  It's an homage to pop culture.  I think it's clever.  I think it's fun.  I think the characters are relatable.  But, I wrote the damn thing.  So, I'm pretty biased.  I hope it will appeal to readers of all "types," though — honestly — I think it's always iffy to classify anyone out there as a "type."
The one word I believe applies to all the titles we are currently working on is "entertaining." That's really our sole criteria.  INDESTRUCTIBLE is the most irreverent of our first wave. CITY: THE MIND IN THE MACHINE is the most intellectual. THE 7TH SWORD is the most "classic" from an action/adventure perspective.  They're all mature without being "adult."  And they're all driven by the voice and vision of their creators.  (Eric Garcia on CITY: THE MIND IN THE MACHINE; John Raffo on THE 7TH SWORD).