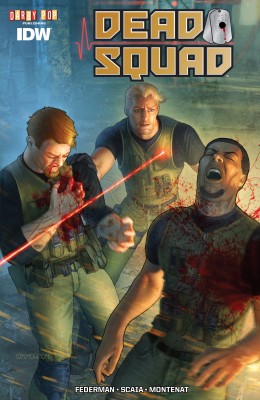 The content that follows was originally published on the Darby Pop Publishing website at http://www.darbypop.com/press/the-dead-squad-gets-deployed-in-the-october-solicits/
The October solicitations have been released. Below you can find all the information you'll need to pre-order our books from your local comic shop.
DEAD SQUAD #1
Diamond Order Code: AUG14 0518
Matthew Federman (W) • Stephen Scaia (W) • Michael Montenant (A) • Steve Firchow (CA) • Howard Chaykin (CA)
The latest from Darby Pop! Three highly-trained Delta Force Operators embark on a high-stakes mission to obtain a mysterious serum. But when they are betrayed by one of their own, securing the drug immediately becomes a matter of life, death, and their own resurrection.
FC • 32 pages • $3.99 • In Shops: 10/15/2014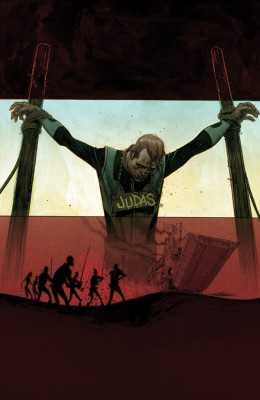 THE 7TH SWORD #5
Diamond Order Code: AUG14 0520
John Raffo (W) • Nur Iman (A) • Andrew Robinson (CA)
After far too little time together, Cray and his Students part ways-the latter setting off to storm the warlord Kavanaugh's sandship, the former having booked passage back to Earth. But along the way, the reluctant warrior is faced with a choice. Will he follow the path before him, or follow the code he has lived by… to almost certain death?
FC • 32 pages • $3.99 • In Shops: 10/29/2014
CITY: THE MIND IN THE MACHINE TP
Diamond Order Code: AUG14 0521
Eric Garcia (W) • Javier Fernandez (A) • Drew Moss (A) • Michael Montenant (A) • Bernard Chang (CA)
Writer Eric Garcia (REPO MEN) introduces us to Ben Fischer, one of the key architects of Golden Shield-an invasive but advanced anti-crime surveillance system utilizing every security camera and internal system in San Francisco. Unfortunately, Shield's artificial intelligence is unable to distinguish real threats from harmless exchanges, and needs to be supplemented with a human element. Against his will, Ben becomes that "mind in the machine," with life-changing consequences for both himself and everyone around him.
TPB • FC • 104 pages • $14.99 • In Shops: 10/15/2014 • ISBN: 978-1-63140-042-1