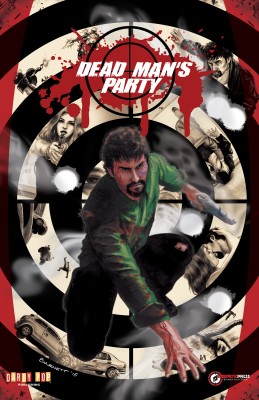 The content that follows was originally published on the Darby Pop Publishing website at http://www.darbypop.com/press/the-january-solicits-invite-you-to-attend-a-dead-mans-party/
The January 2016 solicitations have been released. Below you can find all the information you'll need to preorder our books from your local comic shop.
Dead Man's Party TPB
Diamond Order Code: NOV15 1520
Jeff Marsick (W) • Scott Barnett (A/CA)
In the assassin trade, a Dead Man's Party is part Viking funeral, part Irish wake, a twisted way for your murderous peers to either honor your memory or settle a score.  Each of the five professional killers who participate have 30 days to collect the bounty on your head, adding your distinguished name to his or her resume. And the "contract" is wholly irrevocable. For the world's most feared executioner – known only as Ghost – arranging such a Party for himself is a last resort, a way to go out on his own terms and at the top of his game.
FC • 5 issues • $19.99 • In Shops: 1/27/16