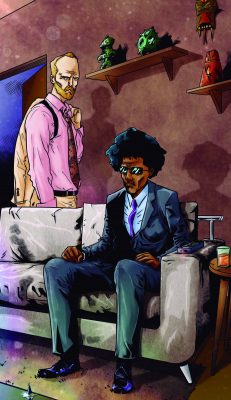 The content that follows was originally published on the Darby Pop Publishing website at http://www.darbypop.com/press/things-you-shouldnt-remember-meet-the-cast-the-handlers/
THE HANDLERS
First seen in Denver, Colorado
PAUL CONWAY
Paul, 40 years, was born to an Englishman and an African American woman. He always wears his sunglasses (even in bed) and his suit. Paul is a calm person. He doesn't speak much, nor does he show any emotion. Not even when he's killing his victims.
Paul lives with John Pellman.
JOHN PELLMAN
John Pellman is 47 years old. Same as Paul, he's a quiet guy – he's not big on talking or expressing his feelings. He's always slightly frowning, as if he's somewhat worried. He always wears a suit. He hunts Rememberers.
John lives with Paul Conway.