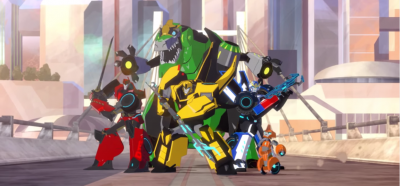 The content that follows was originally published on the Darby Pop Publishing website at http://www.darbypop.com/press/unicron-com-interviews-darby-pop-founder-jeff-kline-about-transformers-comics-and-more/
TRANSFORMERS fan website, Unicron.com, interviewed Darby Pop Founder Jeff Kline about his role as an Executive Producer on TRANSFORMERS: PRIME and his experience entering the comic book industry and founding the independent publisher Darby Pop.
Lukis Bros: For those of you who may not know him by name, we would like to introduce you to Mr. Jeff Kline.  Jeff has played a pivotal role in Transformers fiction in recent years, acting as Executive Producer of all three seasons of Transformers Prime, Rescue Bots (season 1) and soon-to-be seen work on the upcoming Transformers: Robots in Disguise.  On top of all that, he also heads the new up-and-coming independent comic publisher Darby Pop Publishing.  Needless to say, he's kept quite busy the last few years!  So, first off, we thank you for taking the time with us today.  Let's start by talking about some of your work in the past, what our site visitors will perhaps know you best for, your role in Transformers Prime.  At what stage in the series development did you get involved, and could you tell us about your role in the early days?
Kline: ALEX KURTZMAN AND ROBERTO ORCI BROUGHT ME IN AT THE VERY BEGINNING — LATE SUMMER '09 — WHEN THERE WAS A NETWORK (THE HUB), AND A PROJECTED AIR DATE (4TH QUARTER '10 — WHICH ALLOWED FOR ABOUT HALF AS LONG A PRODUCTION SCHEDULE AS WOULD HAVE BEEN OPTIMAL) , AND VERY LITTLE ELSE.  NO ARTISTS.  NO COMPUTERS.  NO INFRASTRUCTURE.  NO "APPROVED" CONCEPT.  JUST A DESIRE (OR A NEED… OR WAS IT A DEMAND?) TO PRODUCE AN ALL-C.G. SERIES THAT WOULD FEEL AS TECHNICALLY "CUTTING EDGE" AS THE TRANSFORMERS FEATURES.
Lukis Bros: What does an executive producer do exactly?
Kline: I CAN'T SPEAK FOR OTHER EXECUTIVE PRODUCERS, BUT I'VE ALWAYS VIEWED THE JOB AS THAT OF SHOWRUNNER:  PART HEAD COACH… PART IN-THE-TRENCHES CREATIVE… PART CFO… PART KEVLAR VEST FOR MY CAST AND CREW.
ON ANY SERIES, I'M RESPONSIBLE FOR GENERATING THE CORE CONCEPTS AND CHARACTERS (ALONG WITH THE OTHER WRITERS AND PRODUCERS, OF COURSE), ESTABLISHING THE VISUAL SIGNATURE, CHOOSING/HIRING THE KEY CREW, WORKING-UP AND KEEPING WITHIN THE BUDGET, AND THEN CREATING AND MAINTAINING AN ENVIRONMENT WHERE EVERYONE INVOLVED CAN AND WILL DO THE BEST WORK THEY ARE CAPABLE OF, DESPITE THE NUMBER OF CHEFS (STUDIO, NETWORK, TOY COMPANY) IN THE KITCHEN.  I APPROVE EVERY STORYLINE.  DO A PASS ON EVERY SCRIPT.  SIGN-OFF ON EVERY CHARACTER DESIGN, BACKGROUND, PROP, COLOR CHOICE, AND STORYBOARD.  I CAST.
SPITBALL WITH THE COMPOSER.  OVERSEE RECORDING SESSIONS.  EDIT.  WEIGH-IN ON MARKETING PLANS.  ETC. ETC. ETC.  IF YOU DIDN'T LIKE TRANSFORMERS: PRIME, YOU CAN ABSOLUTELY BLAME ME. BUT, IF YOU DID LIKE IT, THEN JUST KNOW THAT PRIME'S  "SUCCESS" IS THE DIRECT RESULT OF THE 100 CREWMEMBERS WORKING IN BURBANK (AND FREELANCING FROM ACROSS THE U.S.), AND THE HUNDREDS MORE EMPLOYED BY POLYGON (OUR PARTNER ANIMATION STUDIO IN TOKYO); PRIME WAS TRULY THE SUM OF ITS PARTS.
ONE OF THE REASONS I AGREED TO WORK ON PRIME — DESPITE THE FACT THAT DOING SO WOULD MEAN CONSTANT COAST-TO-COAST TRAVEL — WAS THAT I WAS ABLE TO "PUT THE BAND BACK TOGETHER" — IN OTHER WORDS, I HAD THE OPPORTUNITY TO WORK WITH SOME OF THE SAME TALENTED FOLKS I HAD LEARNED BESIDE AND FROM OVER THE PREVIOUS TWO DECADES.  THERESE TRUILLO.  DUANE CAPIZZI.  DAVID HARTMAN.  JOSE LOPEZ .  VINCE TOYAMA. STEVE MELCHING.  MARSHA GRIFFIN.  THE LIST GOES ON AND ON.  IF I COULD, I'D SLOW THOSE END CREDITS DOWN TO A CRAWL EACH AND EVERY EPISODE…