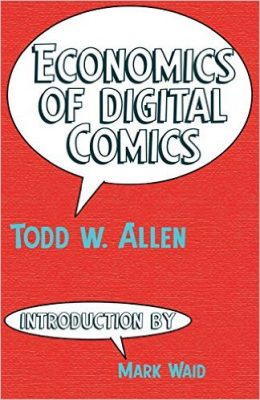 The content that follows was originally published on the Darby Pop Publishing website at http://www.darbypop.com/darby-pops-offs/darby-pops-off-economics-of-digital-comics-by-jeff-kline/
We at Darby Pop have always said it's not easy to break into the comic book industry; that's why we've given up and coming writers and artists opportunities to see their work published. As fun and worthwhile as it is, it's even harder to make a living working in comics. It's this fact that writer Todd W. Allen explores in his book "Economics of Digital Comics," which Darby Pop president Jeff Kline talks about below.

If you have a thought on the topic of the week, please join in the discussion on Facebook (facebook.com/DarbyPopPublishing), Twitter (@DarbyPopComics), or in the comments section below.

Until next time,
-Kristine
---
Hey All,
Embracing my "Oprah" side once again, I want to recommend another book to anyone who is considering self-publishing, and/or wants a very simple, very sober overview of the comics industry.
Economics of Digital Comics by Todd W. Allen is less than 200 pages, and only slightly larger than an issue of Reader's Digest, but it packs an enormous amount of useful information into its pages.
As the title suggests, Allen spends the entire second-half of the book discussing digital publishing, web comics, crowdfunding etc. from a very useful POV – the economic realities of same. Don't worry – he also offers strategies/suggestions for overcoming the tremendous odds stacked against success.
But, it's the first half of the book that really spoke to me. And, that I kinda wished I had read in 2012 when I first started hatching the idea for Darby Pop Publishing. (Not that it would have changed a damn thing, of course…)
Basically… the independent comics business is an awful one from a bottom line perspective. No need to rehash the hows or why; Allen provides plenty of facts and figures to shed that light. Just know – Economics of Digital Comics is one of the first overviews I've found that doesn't look at the industry through rose-colored glasses. Not even a little.
Yes, working in comics can be tremendously satisfying – both emotionally and creatively. Yes, the barrier to entry has never been lower. Yes, the seeming appetite for sequential storytelling appears to be at an all-time high (though, as Allen points out, that's a complete fallacy). But, man… as a business… as a way to make a living… as a career – independent publishing is a BITCH!
At the very least, it was nice to hear someone else say it "out loud."
Have you read the book? Have you used any of it's suggestions? Did it scare you off, or gird your loins?
Would love to hear from you.
Thanks in advance…
Jeff Kline
Founder – Darby Pop Publishing
---
About the Author
For nearly two decades, Jeff Kline has been one of the fortunate few "genre nerds" able to move freely between primetime and daytime television, motion pictures and the Web, and the East and West Coasts. He recently formed Darby Pop Publishing so he could play in the sandbox of comic books, and do so alongside some friends.
As both Writer and Showrunner, Kline has been responsible for more than 40 animated and live-action series and pilots. Currently, he is an Executive Producer and co-developer of TRANSFORMERS: ROBOTS IN DISGUISE, a follow up to his previous project, the multiple Daytime Emmy® Award-winning CG series TRANSFORMERS: PRIME.
Over the past few years, Kline also co-developed and Executive Produced both TRANSFORMERS: RESCUE BOTS and G.I. JOE: RENEGADES for Hasbro Studios and The Hub as part of an exclusive multi-year pact.
Previously, Kline has been Showrunner on a slew of fan-fave animated series including JACKIE CHAN ADVENTURES (Kids WB), MEN IN BLACK: THE ANIMATED SERIES (Kids WB), ROUGHNECKS: THE STARSHIP TROOPERS CHRONICLES (Syndicated), BIG GUY AND RUSTY THE BOY ROBOT (Fox Kids), and GODZILLA: THE SERIES (Fox Kids).