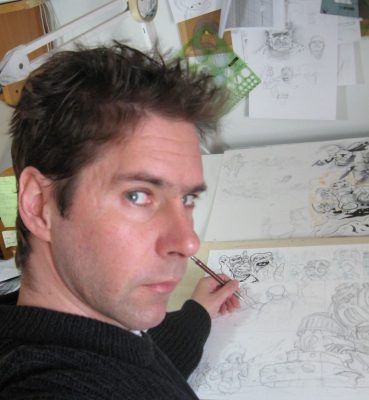 The content that follows was originally published on the Darby Pop Publishing website at http://www.darbypop.com/darby-pops-offs/darby-pops-off-from-indy-to-pulpy-a-comic-creators-winding-road-by-joel-zain-rivers/
Over the last year we've shared the humble beginnings of television and comic book writers alike. If there's one truth to be drawn it's that there's no one path to becoming a professional writer. This week we have another origin story from, this time from returning Darby Pops Off guest writer Joel Rivers.
If you have a thought on the topic of the week, please join in the discussion on Facebook (facebook.com/DarbyPopPublishing), Twitter (@DarbyPopComics), or in the comments section below.

Until next time,
-Kristine
---
A lot has changed in 17 years.
Seventeen years ago I was working at a non-profit in my hometown of San Francisco, dreaming of writing and drawing my own comic stories. That seemed completely impossible at the time; there were so many obstacles. I had been out of college for eight or so years, working in retail shops and navigating a serious health scare that motivated me to continue working retail full-time for the health benefits. Sachi and I were not yet married, and struggling to make ends meet (this was 1999 and, yes, San Francisco was expensive even then) – AND to be happy and fulfilled. We needed a change and I needed the opportunity to work on my art, at least part-time.
It's a few years later and we are living in Portland (Maine), and I've just been awarded the Xeric Grant. I was now a comic creator and, as the shock wore off, I started to realize this could be my career. I got what I now call "the sickness." I became obsessed with writing and drawing comics. There is no cure, and flare-ups can be debilitating. I went on to publish five more issues of Along The Canadian using mostly my own funds, and losing money each time. This business isn't for the squeamish or people who think that they're going to get a return on their investment anytime soon.  This was 2003, 2004, and 2005… before most anyone had heard of Facebook.  And Twitter didn't yet exist.
A lot has changed: the Xeric Foundation, Peter Laird's philanthropic arm that helped so many fledgling comic creators like me to make our first books, has been replaced by Kickstarter and other crowd-funders. I learned so much publishing my own books, dealing with printers and Diamond (who distributed Along The Canadian), that I still call that time in my life/career "grad school". I even received some positive press in what I think is still one of the most respected pillars of comic journalism, "The Comics Journal". However fame/fortune – hell, just steady work – proved elusive. I had so many stories in my head – still do – that I threw a half dozen of them on the web so that they would have some life.
But, so far as income for my artistic endeavors was concerned – bupkis.
I decided that I needed to be working at my craft more, not less, to get better. I quit my day job in 2012 and started a partnership with two other artists, Ben Bishop and Ben Asselin, to create concepts for comics and animation and – why not? – movies, video games, and toys too!  I had a great experience at Out For Justice, as our incubator was called, and my work improved in such a collaborative environment.  We were fortunate enough to travel to L.A., and both San Diego and New York Comic Cons, to network. Still we were three artists in Maine, and even though we put in incredible hours, we struggled to secure credible local business partners and clients.  After two and one-half years, the cracks were showing – at least in my brain. I was 44 years old. My wife was supporting me.  And I didn't see the next step.
Enter my friend, collaborator, and fellow comic artist and writer Frank Reynoso – who's coloring work on Kings And Canvas (with fellow 2003 Xeric grantee Neil Kleid) is hitting shelves as I type – who referred Charles Santino to me.  Charles was no stranger to comics as he had written for Conan (Marvel) as well as adapted works by Ayn Rand and Louis L'Amour.  Charles was looking for an artist to partner with on an Edgar Rice Burroughs story for… Edgar Rice Burroughs, Inc. – the company that the man who created the Lord of the Jungle started in 1912 and which his family still owns.
This year my wife and I moved back west, to her childhood home in New Mexico.  And I am now illustrating a weekly webcomic called The Girl From Hollywood – an ERB tale that has never before been adapted in graphic form. We are near our families again, and I'm envisioning characters that people have only ever seen inside their own heads, so it feels pretty special. I have always been drawn to projects where I can have some artistic freedom and ERB have allowed me to grow in a new direction, so this is a good fit. I'm working with a writer (Charles) who's a veteran crafter of comics, as well as an historian and lover of the art form.  He KNOWS how to write a comic book!  It's been a long, winding, surprising, and frightening road being an independent creator. Would I settle down, and work for the "Big Boys"… or even someone smaller? Yes!  In a heartbeat!  But, I have carved my own path, with the support of my wife, my friends and family. Without them, and without my love of stories and bringing them to life, I would truly have lost my way. I still wake up at night, writing down plots and characters in worlds that never were. I still have "the sickness." And that's just fine.
Joel Z. Rivers
---
About the Author
Joel Zain Rivers is a comic creator, freelance illustrator, storyboard artist, and writer. His Xeric Grant-funded six-issue black and white miniseries, "Along The Canadian", was self-published in 2004-2006. He has gone on to collaborate with Sillywood Animation, an independent animation house. He was 1/3 of the artistic team Out For Justice formed in 2102 in Portland, Maine. He currently illustrates "The Girl From Hollywood," a webcomic on the Edgar Rice Burroughs, Inc. website, and stares at the ceiling at 2 a.m. thinking about his own comic book stories. He lives with his wife in Santa Fe, New Mexico. Learn more about Joel and his work at: http://www.joelrivers.com/