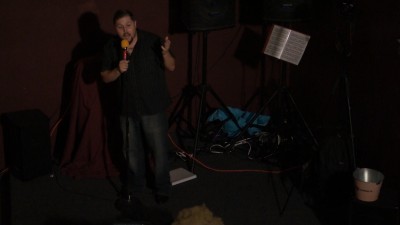 The content that follows was originally published on the Darby Pop Publishing website at http://www.darbypop.com/darby-pops-offs/darby-pops-off-if-you-dont-do-well-at-a-convention-its-on-you-by-dylan-gray/
Running a booth at a convention is a marathon, one that requires not only physical stamina but social stamina. For many of us introverted comic geeks this can be rather difficult, but it can be made easier with the right techniques to approaching con-goers. Darby Pop Promotions Coordinator Dylan Gray has some advice on how to engage your customers at conventions and make a sale.
If you have a thought on the topic of the week, please join in the discussion on Facebook (facebook.com/DarbyPopPublishing), Twitter (@DarbyPopComics), or in the comments section below.
Until next time,
-Kristine
---
I hear people complaining about conventions all the time. "I can't make any sales."  "No one ever stops to talk to me."  They blame the economy or the con-goers themselves for being lookie-loos.  But, neither of those things is the core problem. Sure, the economy being the way it is can be a challenge.  And, yes, a lot of people these days go to cons just to look and not buy. However, the one constant variable in this equation is YOU, the exhibitor.
You need to engage everyone as best you can. There are, in some cases, hundreds of booths at these conventions and attendees want to consider them all. Most people won't just stop and talk; it's up to you to get them to engage. I don't mean you should start pitching them right off the bat.  Rather, start a conversation. Make con-goers feel comfortable. Maybe complement them on something they're wearing or just purchased. Once people are relaxed, they are more receptive to listening to you and seeing what you have going on.
Smiling is probably the single most important thing to do. More often than not, I see sad exhibitors sitting down at their booths. Don't do either of those things! Think about it, would you want to walk up to a booth where someone is just planted looking morose?  Or bored?  No of course not. Be welcoming and make patrons want to engage with you. Stand as much as you can. I know it can be physically demanding, but sitting makes you seem turned-off and less approachable. Stand and smile and see how many more people visit your booth.
Staying off your phone is also a must. Being on your cell phone at a convention suggests that your heart just isn't in it. And/or that your head is somewhere else.  Potential customers are interested in those who are passionate about what they do. Being on your phone suggests your passion lies elsewhere. And besides, you paid to be at the con; why are you on your damn phone? You can check your Facebook later.  In other words, when you're at a con you need to be AT the con.
Look, it's hard out there. Even if you have an amazing product, it doesn't mean you will get lots of sales. But, my point is — with a little bit of a welcoming presence, you can get people to stop and talk to you at conventions. And don't be discouraged if you don't make a sale at that moment. Sometimes the best you can hope for is a curious consumer and/or a new fan; at the end of the day, that is what makes the convention circuit work. A "fan" is basically free promotion. Fans talk to people about what they love and often collect other fans.  And some of those fans might even spend some money the next time they see you – standing and smiling — at a con.
---
About the Author
Dylan Gray has been working in sales for most of his life. He currently serves as both the Promotions Coordinator for Darby Pop Publishing and the Marketing Director at Top Cow. He has written articles for a few online publications, and has self-published his own comic books. His most noted work to-date has been done as a part of the Oakland, CA storytelling "scene" where he is a regular performer and Stage Manager for TMI Storytelling.