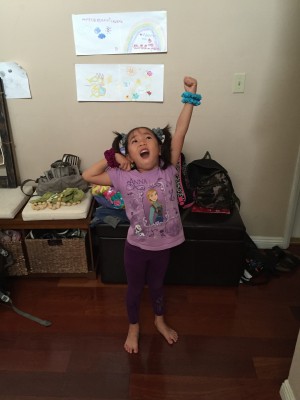 The content that follows was originally published on the Darby Pop Publishing website at http://www.darbypop.com/darby-pops-offs/darby-pops-off-scrunchies-motorcycles-a-dragon-and-clones-by-claire-yorita-lee/
"If you could be any superhero, which one would you be?" It's a powerful question, one that sparks the imagination. Would you become a beloved hero you've read about in comics: a master detective like Batman or have an incredible suite of powers like Superman? Would you be a hero with a costume, an identity, and a way of stopping crime all of your own? Our guest for today, Claire Yorita Lee, poses that question to a group with incredibly fertile imaginations, her children, and shares that conversation with us.
If you have a thought on the topic of the week or want to tell us which superhero you would be, please join in the discussion on social media at Facebook (facebook.com/DarbyPopPublishing), Twitter (@DarbyPopComics), or in the comments below.
Until next time,
---
Driving home from piano lessons, but before basketball practice and in the middle of making dinner, I turn to my three kids sitting in the back seat and ask, "If you guys could be any superhero, which one would you be?"
"Scrunchy girl!" says my Middle Child (the one who craves attention).  Interesting.
Then my analytical Oldest Child thinks for a moment before replying, "Batgirl, because she flies."  Hating to burst Oldest Child's bubble, but not wanting her to go on another minute being ignorant, I mention that Batgirl doesn't actually fly.
"A dragon!" I hear a wee voice shout from the back (my Baby – he's 3, but forever my baby).
 I tell the Oldest Child, "Batgirl glides using her cape and rides a motorcycle… I think."
"Then I want to be Catgirl," she says.
"You mean Catwoman?"
"Yeah."
"You know, she doesn't fly either."  Being a mother can be such a buzzkill.
"A dragon!" the wee voice repeats.
"I don't care, she's pretty and looks like a cat."  Great – I've instilled superficial values in Oldest Child.
"I'll be Batgirl!" Middle Child announces.  She's also my people pleaser.  "Because I want to ride a motorcycle!"  Suddenly, a flash of my poor attention-craving people-pleasing Middle Child as a rebellious teen jumping on the back of her college dropout boyfriend's Harley pops into my head.
"A dragon!" Baby shouts more definitively this time, snapping me back to reality.
"Is a dragon a superhero?"
Baby nods.  Then he says a bunch of random stuff, most of which I don't understand.  But, from what I can gather, this "dragon" flies high, breathes fire, and is a good guy not a bad one.  Then Baby holds up a sticker with Iron Man on it and says, "Iron Man can turn into a dragon."  I don't question.
"What about you, Mommy?" Oldest Child wonders.  I tell her I would be any character who has the ability to clone herself.  Because, honestly, if I could be in multiple places at one time, I would occasionally have time to rest.
And for a moment there is complete silence in the car.
"Well, I think you should be Super Mom," Middle Child pronounces.  I was actually hoping for Wonder Woman – she's young, sexy, has killer hair.  "Because you're a really good mom and super cool."
Aww, Middle Child… Predictably stroking my ego.  But hey, I'll take it!
---
About the Author
Claire Yorita Lee is a former ABC/Disney and FOX writing fellow, Claire recently wrote her second episode of Transformer's: Rescue Bots.  She previously worked on a handful of TV shows, including NBC's Medium where she sold a story.  And had a short film, My Life Disoriented, premiere on PBS's Independent Lens.  Her first book, Beautifully Flawed, which she co-wrote with Shari Rigby, was published this past March, and she has a musical stageplay, The Quarter Slot Sisterhood debuting Fall 2016.  Claire's also a cook, a maid, a chauffeur, and kindergarten room parent.