The content that follows was originally published on the Darby Pop Publishing website at http://www.darbypop.com/events/qa-with-7th-swords-john-raffo-at-golden-apple-comics/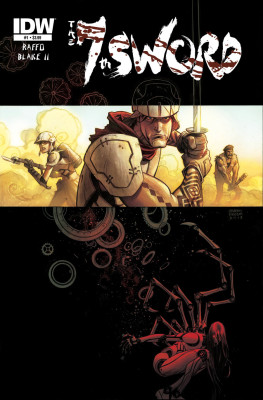 John Raffo (DRAGON: THE BRUCE LEE STORY), the creator and writer of THE 7TH SWORD and Andrew Robinson (Eisner nominated painter of THE FIFTH BEATLE Graphic Novel), a cover artist on THE 7TH SWORD, will be attending the Golden Apple Book Club meeting on Wednesday, April 30th from 7:00pm-9:00pm for a Q&A and a signing.
Snacks and drinks will be served as part of the meeting.
Golden Apple Comics is located at 7018 Melrose, Los Angeles, CA 90038.
Book Synopsis: Daniel Cray-a samurai mercenary-stumbles upon the legendary city of ZenZion, a mysterious desert outpost under siege from a vicious warlord. The peace-loving citizenry beg Cray to defend them… forcing Cray to reluctantly draw his deadly "Malathane" sword one last time to battle a relentless army of robots and their savage masters. Science Fiction meets Samurai in an epic new adventure from John Raffo (DRAGON: THE BRUCE LEE STORY).