The content that follows was originally published on the Darby Pop Publishing website at http://www.darbypop.com/press/announcing-doberman-a-new-comedy-series-from-darby-pop/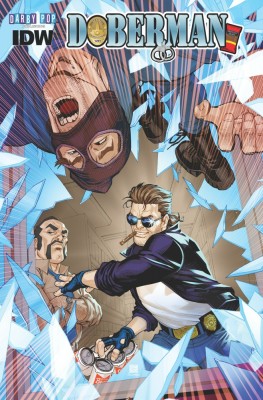 San Diego, CA (April 3, 2014) – From the minds of Rob Rosell and Scott Marder, known from IT'S ALWAYS SUNNY IN PHILADELPHIA and UNSUPERVISED with writer Jack Lambert and artist Brandon McKinney (ARMY OF TWO), Darby Pop's newest comic, DOBERMAN, will make its debut this July.
"DOBERMAN is the tale of a roundhouse-kicking, beer-shotgunning, Dodge Stealth-driving badass with a badge, shamed into years of personal exile. But, now he's back, with only one thing on his mind — revenge!" said Jack Lambert. "Simply put, if Sylvester Stallone, Steven Seagal, and Jean-Claude Van Damme had a child, Frank Doberano (aka Doberman) would be that bastard's name."
Frank Doberman was the greatest detective of his era with the fastest car, biggest gun, and longest… um… arrest record. But after a drug bust went horribly wrong, Doberman disappeared, seeking solace in the comforting bosom of Mother Nature. Lured back to the Force by the promise of vengeance, and an ice-cold six-pack, Doberman has to deal with a new age of social media, regulations, and an uber-villain whom the world wants to believe has changed his ways.
About IDW Publishing
IDW is an award-winning publisher of comic books, graphic novels and trade paperbacks, based in San Diego, California. Renowned for its diverse catalog of licensed and independent titles, IDW publishes some of the most successful and popular titles in the industry, including: Hasbro's The TRANSFORMERS, G.I. JOE and MY LITTLE PONY; Paramount's STAR TREK; Nickelodeon's TEENAGE MUTANT NINJA TURTLES; 2000AD'S JUDGE DREDD; THE ROCKETEER; TOHO'S GODZILLA; WIZARDS OF THE COAST'S MAGIC: THE GATHERING and DUNGEONS & DRAGONS; and the Eisner-Award winning LOCKE & KEY series, created by best-selling author Joe Hill and artist Gabriel Rodriguez. IDW is also home to the Library of American Comics imprint, which publishes classic comic reprints, Yoe! Books, a partnership with Yoe! Studio, and the multiple award-winning Artist's Edition imprint.
 About Darby Pop Publishing
Founder and Emmy-winning writer/producer Jeff Kline (TRANSFORMERS: PRIME, G.I. JOE RENEGADES) created Darby Pop Publishing with the goal of telling all-new stories crafted by a small circle of friends. Former Marvel and Top Cow Editor David Wohlis Editor-In-Chief. Darby Pop Publishing's ever-growing array of original titles includes INDESTRUCTIBLE, CITY: THE MIND IN THE MACHINE, and THE 7TH SWORD, all distributed by IDW.DarbyPop's first trade paperback, INDESTRUCTIBLE Vol. 1, comes out late June. For more information, visit darbypop.com.