The content that follows was originally published on the Darby Pop Publishing website at http://www.darbypop.com/press/breaking-into-comics-contest-generates-thousands-of-pages-and-very-soon-a-dream-fulfilled/
FOR IMMEDIATE RELEASE
November 7th, 2014
Darby Pop Publishing's "Breaking Into Comics" Script Contest Generates Thousands of Pages. And, Very Soon, A Dream Fulfilled.
Recently, IDW-distributed Darby Pop Publishing did something rather unusual when it put out an "open call" for finished comic book scripts — one of which will become the basis for a spin-off from the company's flagship title, INDESTRUCTIBLE. With the promise of a paid writing gig and a guarantee to be published next spring, a staggering 170+ entries were received before the contest's October 22nd cutoff.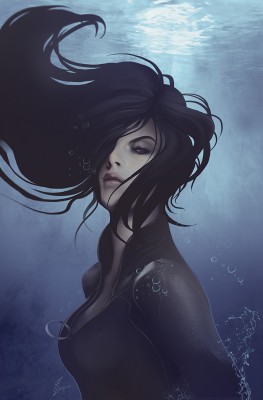 Darby Pop asked that all submissions focus on hero-turned-villain Stingray — a multi-layered character featured in INDESTRUCTIBLE issues #1 – #4. Aspiring writers were given few other rules, and advised to let their "creativity run wild." Now, the editorial staff at Darby Pop Publishing has the unenviable task of picking just one victor, though each and every script will be read, and it is entirely possible that other talented scribes will be "discovered." The winner will be announced on November 17th.
"The winner can expect to be tossed right into the editorial process, as we intend to release this book in May 2015, and the clock is already ticking," said Managing Editor Renae Geerlings. "We already have the cover art for the book completed; it's a beautiful piece by Jeff Langevin. And there may well be a subscription variant or maybe even a con-exclusive cover coming down-the-pike, as well."
Publisher Jeff Kline added: "Thanks to everyone who participated… posted a link… tweeted… or just told a friend. We are genuinely thrilled by the response. So much so that we might just have to do this kinda thing again. Though, not until the entire editorial staff has taken a speed-reading course."
About Darby Pop Publishing
Founder and Emmy-winning writer/producer Jeff Kline (TRANSFORMERS: PRIME, G.I. JOE: RENEGADES) created Darby Pop Publishing with the goal of telling all-new stories crafted by a small circle of friends. Darby Pop Publishing's ever-growing array of original titles includes INDESTRUCTIBLE, CITY: THE MIND IN THE MACHINE, THE 7TH SWORD, DOBERMAN, and DEAD SQUAD, all distributed worldwide by IDW. For more information, visit www.darbypop.com.
About IDW Publishing
IDW is an award-winning publisher of comic books, graphic novels and trade paperbacks, based in San Diego, California. Renowned for its diverse catalog of licensed and independent titles, IDW publishes some of the most successful and popular titles in the industry, including: Hasbro's The TRANSFORMERS, G.I. JOE and MY LITTLE PONY; Paramount's STAR TREK; Nickelodeon's TEENAGE MUTANT NINJA TURTLES; 2000AD'S JUDGE DREDD; THE ROCKETEER; TOHO'S GODZILLA; WIZARDS OF THE COAST'S MAGIC: THE GATHERING and DUNGEONS & DRAGONS; and the Eisner-Award winning LOCKE & KEY series, created by best-selling author Joe Hill and artist Gabriel Rodriguez. IDW is also home to the Library of American Comics imprint, which publishes classic comic reprints, Yoe! Books, a partnership with Yoe! Studio, and the multiple award-winning Artist's Edition imprint.