The content that follows was originally published on the Darby Pop Publishing website at http://www.darbypop.com/press/comic-book-resources-covers-idws-panel-to-end-all-panels/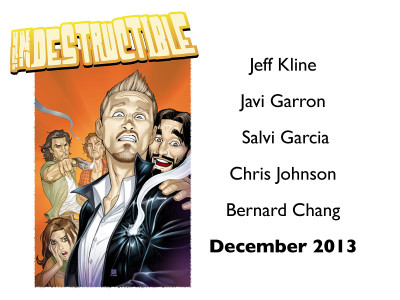 Karl Keily from Comic Book Resources recently posted a great writeup of IDW's Panel to End All Panels at SDCC 2013. Amongst the myriad of announcements, IDW announced their partnership with Darby Pop Publishing to release a number of new comic books. Here's what Keily recalled from the announcement.
'INDESTRUCTIBLE from writer Jeff Kline and artists Javi Garron, Salvi Garcia and Chris Johnson, is about a man who survives a bullet-wound by chance and gets celebrated as a super hero, so he decides to run with it. Wohl revealed the original title of the book was STONER.
CITY: THE MIND IN THE MACHINE by MATCHSTICK MEN screenwriter Eric Garcia and cover artist Tommy Lee Edwards is about a man who gets every closed circuit camera in the city hooked up directly to his vision, allowing him to see everywhere and everyone.
The last Darby Pop title announced was THE 7TH SWORD by John Raffo and artist Nelson Blake II. Wohl described the book as an, "Apocalyptic Western sci-fi tale."
To read the full article, head over to Comic Book Resources by clicking here.