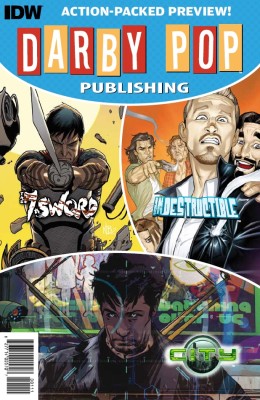 The content that follows was originally published on the Darby Pop Publishing website at http://www.darbypop.com/press/comics-bastards-takes-a-first-look-at-the-darby-pop-preview-book/
Dustin Cabeal took a first look at the Darby Pop Preview Book that was sent out to retailers this week. In his article he gives his first impressions at our new lineup.
"Indestructible is written by Jeff Kline and drawn by Javi Garron. It's the first preview you'll find below as well. It's an interesting story as it looks like a simple misunderstanding turns a normal dude into a superhero.
The second story is called City which will be hitting in February of next year. It's written by Eric Garcia and art by Javier Fernandez. I was actually surprised by this preview as the premise looks far more interesting than the name implies. It's definitely one to keep an eye for.
The last preview is The 7th Sword and is from John Raffo and Nelson Blake II. It looks like it's set in the future when oil has all but vanished."
Click here to read the whole article and to see the entire preview book!