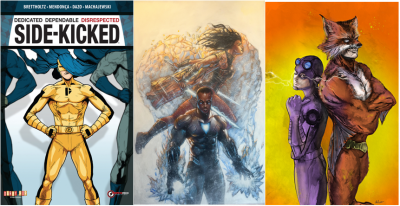 The content that follows was originally published on the Darby Pop Publishing website at http://www.darbypop.com/press/darby-pop-publishing-announces-winners-of-3rd-breaking-into-comics-contest/
DARBY POP PUBLISHING ANNOUNCES WINNERS OF 3rd "BREAKING INTO COMICS" CONTEST
– Winning Writers & Artists to be published in expanded Side-Kicked TPB reprint –
Los Angeles, CA (March 15, 2017) – Darby Pop Publishing is pleased to announce the winners of its third "Breaking Into Comics" contest. This year's victorious scribes are Adam Breen, courtesy of his script "Gauntlet" (featuring Atalanta and Frostbite), and Richard Casey, thanks to his effort "Pick (Up) a Card" (featuring Flying Fox and Jolt). Bringing Breen's and Casey's scripts to eye-popping life will be winning artists Steven Defendini, a teacher at North Bergen High School (in New Jersey), and Gary Deslauriers, an elementary art teacher with an MA in Art Education from Rhode Island College. Both 11-page Side-Kicked stories will be published this summer as part of an expanded 2nd printing of Russell Brettholtz's and Miguel Mendonca's sold-out Side-Kicked trade paperback, and will also be made available as a single digital issue on ComiXology.
Both Breen and Casey were previous winners (along with 9 other writers from around the globe) of Darby Pop's 2nd "Breaking Into Comics" contest. That competition resulted in The Women of Darby Pop – a unique double-sized anthology in which they each had a four-page story published.
"The quality of the submissions was so good, it was a challenge to choose just four winners," said Darby Pop Marketing Director Kristine Chester. "In fact, we've opted to additionally compile a list of writers and artists we deemed worthy of Honorable Mention – each of whom will receive a copy of the expanded trade paperback (or, if based overseas, a digital copy). And even the Honorable Mention list required some hard choices be made."
Pin-ups submitted by those artists chosen for Honorable Mention will also be featured on Darby Pop's Facebook and Twitter pages.
Honorable Mention – Writers
Adam Breen and his script "Help Wanted"
Alberto Veloso and his script "The Interview"
Jason Snyder and his script "When Al Met Howie"
Jeff Burns and his script "The Interview"
Jeff Leeds and his script "Breaking the Ice"
Honorable Mention – Artists
Brent Hibbard
Lee Bokma
Malik Rozier
Seth Adams
Shane Douberly