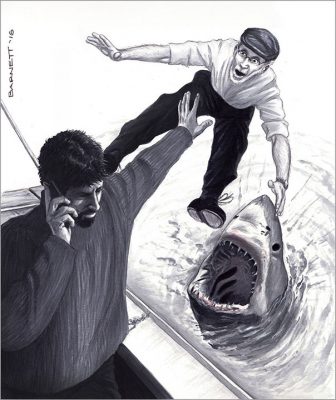 The content that follows was originally published on the Darby Pop Publishing website at http://www.darbypop.com/press/dead-mans-party-death-wish-coffee-commission-collage/
Hi, everyone- Scott Barnett, artist/co-creator of Dead Man's Party, here!
Well… I've finally finished!
Finished what, you might be asking? Earlier this year, Darby Pop Publishing ran a contest sponsored by Death Wish Coffee- if you retweeted or shared our contest entry post after the release of the trade paperback of Dead Man's Party, you were automatically entered into a sweepstakes for a pound of Death Wish Coffee and a custom commission painted by me. Five winners were chosen, and each one was to be immortalized 'meeting their maker' at the hands of DMP's main character, hitman extraordinaire 'Ghost'.
The five winners were Jason Beaton, Denise Bonyeau, Amber Love, Robert Sodaro, and Ian Taylor. Considering the amount of entrants, I was a bit surprised that I knew three of the winners (neither Jeff nor I had anything to do with picking them, I swear!). In any event, it was a good mix of both hard-core supporters of our series, as well as strangers who may be new to the book, which is a good thing, too, right?
I'd like to thank all five winners for entering, as well as all the people who took a moment to enter; I hope they've checked out Dead Men's Party and/or encouraged friends to do the same. I had a lot of fun trying to come up with different ways for 'Ghost' to fulfill all five contracts, ranging from a classic sniper shot for Ms. Bonyeau to the truly absurd feeding of Mr. Sodaro to a Great White shark!
Rest in Peace and on to 2017! Happy Holidays!
Scott