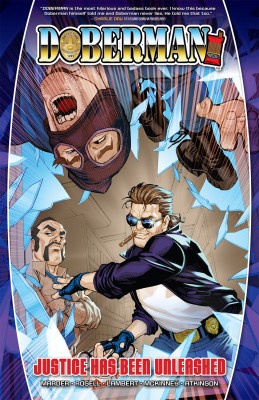 The content that follows was originally published on the Darby Pop Publishing website at http://www.darbypop.com/press/dobermans-brand-of-justice-is-unleashed-in-the-march-solicits/
The March solicitations have been released. Below you can find all the information you'll need to preorder our books from your local comic shop.
DOBERMAN TP
Diamond Order Code: JAN15 0557
Rob Rosell (W) • Scott Marder (W) • Jack Lambert (W) • Brandon McKinney (A) • Bernard Chang (C)
Frank Doberman was the greatest detective of his era with the fastest car, biggest gun, and longest… um…  arrest record.  But after a drug bust went horribly wrong, Doberman disappeared, seeking solace in Mother Nature. Now lured back to the Force by the promise of vengeance, and an ice-cold six-pack, Doberman has to deal with a new age of computers, regulations, and an uber-villain whom the world seems to believe has changed his ways.
FC • In Shops: 3/11/2015
DEAD SQUAD #5
Diamond Order Code: JAN15 0558
Matthew Federman (W) • Stephen Scaia (W) • Michael Montenat (A) • Dave Hartman (CA)
It's a battle on the high seas as Blake, Hooper, and Vargas confront Fisher and his renegade army. With the biotics reprogrammed to kill rather than resurrect, Fisher now holds the greatest tool for assassination the world has ever known.  With little time left, and little hope of saving their own skins, the Dead Squad must put a stop to their former commander's plans, even if doing so means spending all eternity in the Inferno.
FC • 32 pages • $3.99 • In Shops: 3/11/2015