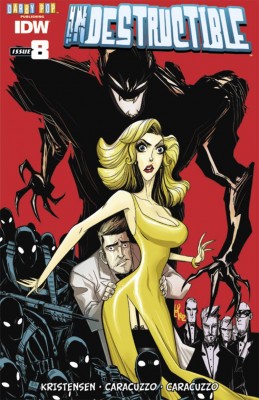 The content that follows was originally published on the Darby Pop Publishing website at http://www.darbypop.com/press/indestructible-gets-its-party-crashed-in-the-september-solicits/
The September solicitations have been released. Below you can find all the information you'll need to pre-order our books from your local comic shop.
INDESTRUCTIBLE #8
Diamond Order Code: JUL14 0424
Ken Kristensen (W) • Giancarlo Caracuzzo (A) • Jose Lopez (CA)
"Best Impersonation of a Superhero" goes to… Greg and Barry attend the People's Choice Awards with all of Hollywood's best, brightest, and most botox'd.  But it's the sadistic Tarr whose star shines the brightest, using the event to target as many high profile superheroes as possible.
FC • 32 pages • $3.99 • In Shops: 9/17/2014
DOBERMAN #3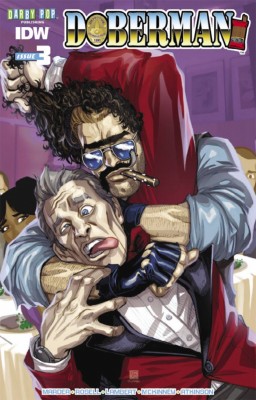 Diamond Order Code: JUL14 0426
Jack Lambert & Various (W) • Brandon McKinney (A) • Bernard Chang (C)
When uber-villain Jasper Kane throws a charity event for disadvantaged canines, one pretzel-chewing, lady-loving, ass-kicking dog is left off the guest list.  But that little "oversight" won't stop Frank "Doberman" Doberano when there is vengeance to be had… or an open bar.
The writing team behind It's Always Sunny in Philadelphia offer this action-packed take on the buddy cop comedy.
FC • 32 pages • $3.99 • In Shops: 9/10/2014