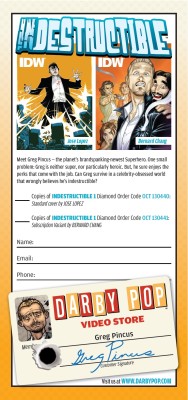 The content that follows was originally published on the Darby Pop Publishing website at http://www.darbypop.com/press/indestructible-subscription-form-reserve-your-copy/
INDESTRUCTIBLE #1 comes out on December 18th, 2013, but stores need to place their orders much earlier than that. The best way to let your store know that you are interested in the comic is to pre-order the book. So we thought we'd create a fun and easy-to-use subscription form that you can take to your local retailer.
All you have to do is download the subscription form, fill it out, and take it to your local comic store. To get started, click here!
If you need help finding your local comic store, check out the Comic Shop Locator.