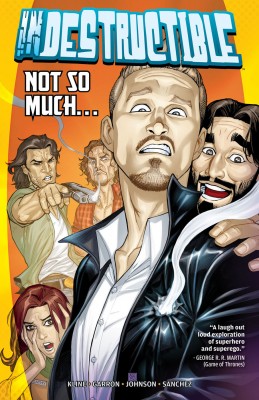 The content that follows was originally published on the Darby Pop Publishing website at http://www.darbypop.com/press/june-solicits-have-arrived-introducing-the-indestructible-vol-1-tpb/
The June solicitations have been released. Below you can find all the information you'll need to pre-order our books from your local comic shop.
INDESTRUCTIBLE, Vol. 1
Diamond Order Code: APR14 0457
Jeff Kline (W) • Javi Garron (A) • Salvi Garcia (A) • Chris Johnson (A) • Bernard Chang (C)
Meet Greg Pincus—the planet's brand-spanking-newest Superhero. One small problem: Greg is neither super, nor particularly heroic. But, he's sure enjoying the perks that accompany the world's misconception. Can Greg successfully navigate a celebrity-obsessed culture without revealing his secret shame?  Will his hirsute best friend/roommate (Barry) ever stop making things worse?  Will the League of Defenders quit sniping long enough to battle evil?  And, most importantly, will Greg's Mother–June–ever be freakin' satisfied?
• "A laugh out loud exploration of superhero and superego." –George R.R. Martin
• Jeff Kline (TRANSFORMERS: PRIME, G.I. JOE RENEGADES) pens this serio-comedic take on a reluctant hero, and contemplates what it means to be "special" in a world where fame can come and go faster than a speeding bullet. Collects issues #1–4.
TPB • 104 pages • $14.99 • ISBN: 978-1-61377-977-4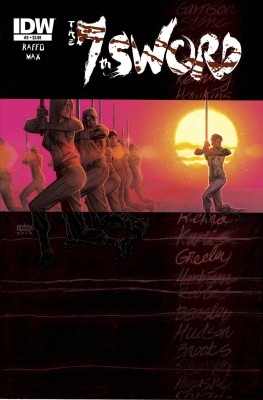 THE 7TH SWORD #3
Diamond Order Code: APR14 0455
John Raffo (W) • Iman Max (A) • Andrew C. Robinson (C)
As the warlord Kavanaugh gathers his army of cyborgs, mutants, and assassins, Cray must find a way to defend ZenZion using the limited resources available.  But how can one disgraced warrior train an entire citizenry to defend itself without molding them into cold-blooded killers in his own image?
FC • 32 pages • $3.99
THE 7TH SWORD #3 – Subscription Variant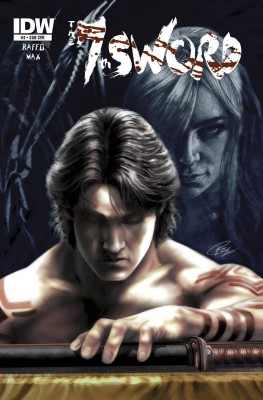 Diamond Order Code: APR14 0456
John Raffo (W) • Iman Max (A) • Ron Leary (C)
For subscription customers only…a variant cover from Ron Leary!
FC • 32 pages • $3.99