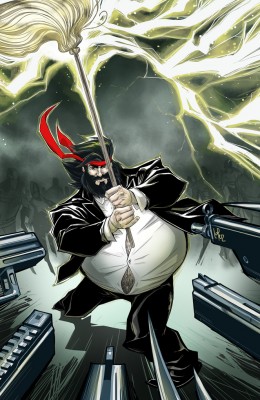 The content that follows was originally published on the Darby Pop Publishing website at http://www.darbypop.com/press/november-solicits/
The November solicitations have been released. Below you can find all the information you'll need to pre-order our books from your local comic shop.
INDESTRUCTIBLE #9
Diamond Order Code: SEP14 0530
Ken Kristensen (W) • Giancarlo Caracuzzo (A) • Jose Lopez (CA)
As Tarr's sinister plan is revealed, it's up to Barry to save hero and civilian alike. Including Greg-who's kinda, sorta both. Outnumbered, outgunned, and WAY out-of-his league, Barry's chances look slim. But "Farmstrong" just might rise to the occasion, assuming he can avoid Tarr's paramilitary Guards, and the distraction of an open bar…
FC • 32 pages • $3.99 • In Shops: 11/19/2014
DEAD SQUAD #2
Diamond Order Code: SEP14 0531
Matthew Federman (W) • Stephen Scaia (W) • Michael Montenant (A) • Steve Firchow (CA)
Betrayed by their superior officer, Blake, Hooper, and Shane find themselves unwitting pawns in a treasonous game-not to mention stone-cold dead. Even after being revived by cutting-edge technology, they remain prisoners… of the U.S. government. But a life sentence in Leavenworth is the least of their worries since the nanobots keeping them re-animated have a short shelf-life, giving our heroes just 30 hours to set things right… 30 hours to make their resurrection permanent.
FC • 32 pages • $3.99 • In Shops: 11/12/2014

DOBERMAN #4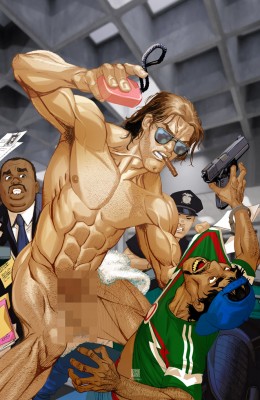 Diamond Order Code: SEP14 0532
Jack Lambert (W) • Scott Marder (W) • Rob Rosell (W) • Brandon McKinney (A) • Bernard Chang (CA)
Doberman's been put on a leash, but now that he's picked-up the scent, this dog WILL hunt. With a lead on Kane's drug-running operations, Doberman must send his rookie partner Newton undercover. Inexperienced, incompetent, and incapable of being in the same room as a crustacean, Newton may have mad computer skills-and a fake ear-but will that be enough to bring Kane down?
FC • 32 pages • $3.99 • In Shops: 11/5/2014