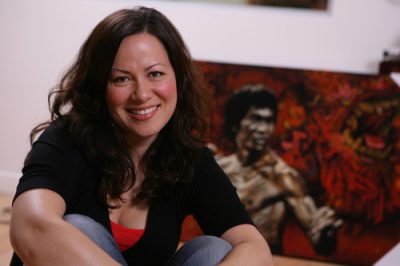 The content that follows was originally published on the Darby Pop Publishing website at http://www.darbypop.com/press/previewsworld-interviews-shannon-lee-on-bruce-lee-the-walk-of-the-dragon/
Below is an excerpt from an interview PREVIEWSWorld's Vince Brusio did with daughter of Bruce Lee, Shannon Lee regarding Bruce Lee: The Dragon Rises and Bruce Lee: The Walk of the Dragon. For the full interview visit PREVIEWSWorld here.
It's not often that your father is a legend. Even more rare is when a comic book is dedicated to his life's work! In the case of Bruce Lee: The Walk Of The Dragon (JAN181591) from Darby Pop, Shannon Lee got lucky. She found a bunch of creators at Darby that shared her dream of making a Bruce Lee comic. Now, her father is once again held in the highest esteem, and a new comic book coming to shops this March 28 puts The Little Dragon in the spotlight for a new generation of comic book readers.
**********
Vince Brusio: How did you first get involved in this project? How/when were you approached, and by whom?
Shannon Lee: Actually, I came up with the idea to do a Bruce Lee comic book. I was talking with someone at a friend's signing… and saying that there should a "Bruce Lee" comic book. He agreed enthusiastically, and ended up introducing me to Jeff Kline (President of Darby Pop Publishing). Both my brother and I read comics as kids so it was a part of my life from early on. It just seemed Bruce Lee in comic form should be a given!
Vince Brusio: What was the goal for you personally when it came to aiding the narrative that would tell a story about your father?
Shannon Lee: I had a couple of goals. The most prominent one was creating a way to introduce my father to a younger audience. But, I also was keen to have fun and satisfy 13-year old Shannon!
Vince Brusio: Were there any personal anecdotes or stories that you wanted to work into the comic narrative, or was your role more of a consultant for what was previously drafted?
Shannon Lee: As Jeff gleefully tells anyone who will listen, I actually helped create the original concept and storyline, and I co-wrote the first book (with Jeff). In fact, the young female lead is named after my daughter, Wren. I worked really closely with Brandon McKinney (the Artist) to get my father's physicality right both in appearance and movement, and I made sure that there were some casual philosophical nuggets sewn into the story just as my father would have wanted. This project is a true labor of love! As a self-contained adventure, Bruce Lee: The Walk Of The Dragon was a nice detour to get to interact a little more directly with my father's legacy, which Nicole (Dubuc) did a great job writing. She didn't need much help from me at all!