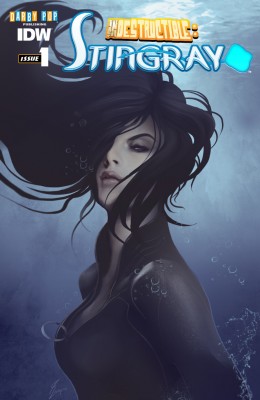 The content that follows was originally published on the Darby Pop Publishing website at http://www.darbypop.com/press/stingray-rises-from-the-depths-in-the-may-solicits/
The May solicitations have been released. Below you can find all the information you'll need to preorder our books from your local comic shop.
INDESTRUCTIBLE: STINGRAY #1
Diamond Order Code: MAR15 0466
Jeff Marsick (W) • Luca Reguzzoni (A) • Jeff Langevin (C) • Nei Ruffino (C)
Jeff Marsick, winner of Darby Pop's "Breaking Into Comics" writing contest, brings you the origin story of Stingray, INDESTRUCTIBLE's aquatic superheroine gone astray.
It's tough enough being a mutant teenager, but imagine the challenges when you're also surrounded by role models driven wholly by power, money, fame, and antagonism. (No, not the Kardashians.) Kelly, a.k.a. Stingray, finds herself the newest member of the League of Defenders, America's premiere super team, and most dysfunctional "family." Will Stingray be able to navigate the choppy waters, or will they swallow her whole?
FC • 32 pages • $3.99 • In Shops: 5/27/2015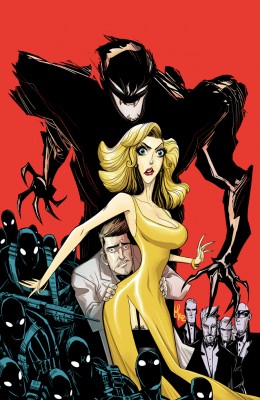 INDESTRUCTIBLE TPB Vol. 2
Diamond Order Code: MAR15 0465
Ken Kristensen (W) • Giancarlo Caracuzzo (A) • Jose Lopez (C)
Ken Kristensen (TODD THE UGLIEST KID ON EARTH) grabs the reins for the second jocular arc of INDESTRUCTIBLE.
Superhero… media darling… fraud.
Greg Pincus became famous when the public mistakenly believed him to be indestructible. After narrowly avoiding exposure, deformity, and death, Greg's fifteen minutes may have stretched to a half-hour, but our hapless hero soon learns that fame can be a snarling bitch. With his personal and professional relationships in tatters, and his best friend (Barry) providing nothing but grief, Greg must attend a very public event where — of course — absolutely EVERYTHING hits the fan. Will Greg rise to the occasion — superpowers or not? Will Tarr's villainous plan come to fruition? Will Barry ever put on pants?
FC • 152 pages • 6 issues • $19.99 • In Shops: 5/13/2015