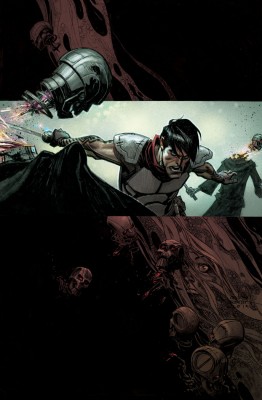 The content that follows was originally published on the Darby Pop Publishing website at http://www.darbypop.com/press/the-7th-sword-prepares-for-the-final-showdown-in-the-february-solicits/
The February solicitations have been released. Below you can find all the information you'll need to pre-order our books from your local comic shop.
THE 7TH SWORD #7
Diamond Order Code: DEC14 0597
John Raffo (W) • Nur Iman (A) • Andrew Robinson (CA)
Featuring another gorgeous cover from Eisner award-winner Andrew Robinson, writer John Raffo (Dragon: The Bruce Lee Story) presents the final battle between the sellsword and the warlord.
Flanked by his inexperienced students, Cray must wade through an army of mechs and mutants to confront the barely-human Superfecta 5. But even if Cray is able to defeat his nemesis, the battle-weary warrior must still best the sadistic Quentin Kavanaugh, with the future of an entire civilization hanging in the balance.
FC • 32 pages • $3.99 • In Shops: 2/18/2015
DEAD SQUAD #4
Diamond Order Code: DEC14 0598
Matthew Federman (W) • Stephen Scaia (W) • Michael Montenat (A) • Blond (CA)
Creator/Writers Matthew Federman & Stephen Scaia (JERICHO, WAREHOUSE 13, HUMAN TARGET) drive DEAD SQUAD #4 down a solemn and surprising road.
The Dead Squad's former commanding officer, Colonel Fischer, turned traitor and snuffed the lives of his own men to cover his tracks. Now a temporarily-reanimated Blake, Hooper, and Shane have Fisher in their custody. Will the Dead Squad recover the cutting-edge biotics that might extend their stays of execution? Or will they be thwarted by the final wist in Fisher's campaign?
FC • 32 pages • $3.99 • In Shops: 2/11/2015