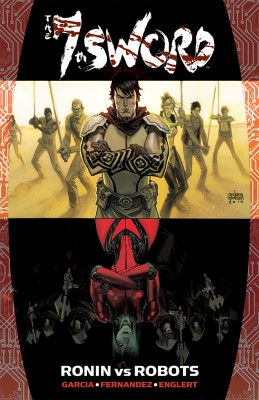 The content that follows was originally published on the Darby Pop Publishing website at http://www.darbypop.com/press/the-april-solicits-delivers-7-issues-of-the-7th-sword-in-a-single-trade/
Diamond Order Code: FEB15 0468
John Raffo (W) • Nur Iman (A) • Nelson Blake II (A) • Andrew Robinson (C)
Cover by Eisner Award-Winning Artist Andrew Robinson!
Writer John Raffo (DRAGON: THE BRUCE LEE STORY) unfurls the tale of a reluctant Samurai battling both a powerful Warlord and his army of lethal robots, creatures, and hybrids in this sprawling sci-fi epic.
On a distant planet, a battle-weary warrior – Daniel Cray – is enlisted to assist a city under siege in exchange for safe passage back to Earth. But while Cray agrees to train the citizenry in the way of the blade, he will not fight alongside them. Soon, six inexperienced Students are all that stand between civilization, and complete annihilation.
Collects ALL 7 Issues For Only $19.99!
FC • 152 pages • $19.99 • In Shops: 3/11/2015