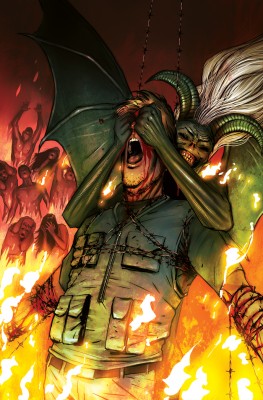 The content that follows was originally published on the Darby Pop Publishing website at http://www.darbypop.com/press/the-dead-squad-faces-hell-itself-in-the-december-solicits/
The December solicitations have been released. Below you can find all the information you'll need to pre-order our books from your local comic shop.
DEAD SQUAD #3
Diamond Order Code: OCT14 0577
Matthew Federman (W) • Stephen Scaia (W) • Michael Montenant (A) • Matt Timson (C)
The Dead Squad has thirteen hours to live and only one hope: Vargas — a sultry ex-operative nursing both a professional and personal grudge against Blake. Meanwhile, their ex-commander Fisher moves forward with his own cryptic plans for the life-giving biotics the Dead Squad seeks — and rightly fears.
FC • 32 pages • $3.99 • In Shops: 12/10/2014
THE 7TH SWORD #6
Diamond Order Code: OCT14 0576
John Raffo (W) • Nur Iman (A) • Andrew Robinson (C)
From writer John Raffo (DRAGON: THE BRUCE LEE STORY) comes another action-packed chapter in the sci-fi samurai showdown.
When the 7th Sword finds its way back to Cray, it seems as though a choice has been made for him. But Cray knows that, as a Kenji, there was only ever one choice — even in the face of hopeless odds.
FC • 32 pages • $3.99 • In Shops: 12/3/2014