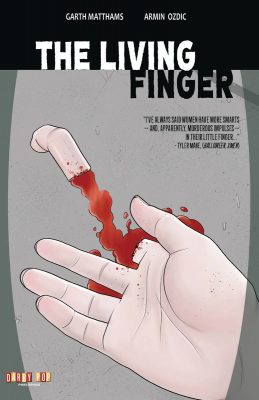 The content that follows was originally published on the Darby Pop Publishing website at http://www.darbypop.com/press/the-living-finger-claws-its-way-into-the-july-solicits/
The July solicitations have been released. Below you can find all the information you'll need to preorder our books from your local comic shop.
THE LIVING FINGER TPB
Diamond Order Code: MAY16 1626
Garth Matthams (W) • Armin Ozdic (A/CA)

When well-meaning Jason discovers a disembodied finger that appears to be "alive," it quickly becomes the sole focus of his life. He names the digit "Wendy," learns to communicate with it via "tap code," and discovers that the one thing Wendy wants more than anything else in the world is a living, breathing human body to attach to. Just how far will Jason go to satisfy his ambulatory friend?
FC • $14.99 • In Shops: 7/27/2016