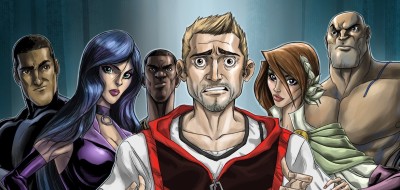 The content that follows was originally published on the Darby Pop Publishing website at http://www.darbypop.com/press/usa-today-interviews-jeff-kline-about-indestructible/
Brian Truitt delivers the inside scoop on Darby Pop Publishing's first new comic series, INDESTRUCTIBLE, in this interview with Darby Pop Founder and the creator of Indestructible, Jeff Kline.
With his first comic book, Jeff Kline is venturing well outside his normal surroundings of kids' cartoons. The executive producer of TRANSFORMERS: PRIME and other animation projects equates working on the more mature superhero title INDESTRUCTIBLE to "living in the 'other' part of my brain. Right next to the part of my brain that's waiting for Lizzy Caplan to call and ask me to marry her." With a first issue out Wednesday from the partnership of IDW and Kline's own fledgling Darby Pop Publishing, INDESTRUCTIBLE is his take on the old superhero trope of an ordinary guy finding the extraordinary thrust upon him.
Read the full article here and check out the exclusive 7-page preview of the first issue which comes out on Wednesday December 11th at comic shops nationwide.