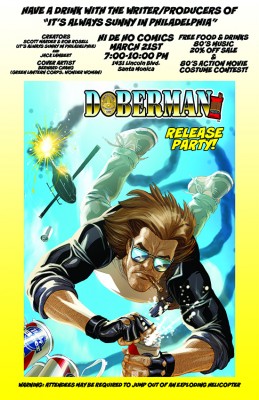 The content that follows was originally published on the Darby Pop Publishing website at http://www.darbypop.com/events/have-a-drink-with-the-doberman-crew/
Saturday, March 21st, celebrate the release of the DOBERMAN TPB with Darby Pop Publishing, the book's creators, and the Hi De Ho Comics crew at an after hours party in Santa Monica! Free drinks will be served, a DJ will be spinning, and entertainment will be provided, including an 80's action hero costume contest (see below).
Saturday, March 21st, 7:00pm-10:00pm
Hi De Ho Comics & Books with Pictures
1431 Lincoln Blvd.
Santa Monica, CA 90401
Cover Artist Bernard Chang (GREEN LANTERN CORPS WONDER WOMAN, SUPERGIRL) will be in attendance as will writer/creators Scott Marder and Rob Rosell, writer/producers of IT'S ALWAYS SUNNY IN PHILADELPHIA and UNSUPERVISED, as well as their co-writer/creator Jack Lambert.
Some things cannot be unseen…
If Ron Burgundy had an illegitimate child with Steven Seagal, their bastard prodigy would be DOBERMAN — a roundhouse-kicking, beer-shotgunning, Dodge Stealth-driving badass with a badge! From the twisted minds who brought you "It's Always Sunny in Philadelphia" comes the story of Frank Doberano, a.k.a. Doberman, a cop who plays by his own rules and rules wherever he plays. But when his partner is killed during a bust gone bad, Doberman must walk the thin line between vengeance… and even more vengeance.
Costume Contest
Break out the duct tape and put on your best John McClane costume because prizes will be awarded for the best 80's action movie costumes.